Pedders Airbag Kit 495049
Pedders Airbag Kit
Pedders Air Assist air bags kits for coil and leaf sprung vehicles make light work of heavy loads.
Common benefits include
Reduced maintenance & repair costs
Better handling and increased stability
Increased safety
Adjustability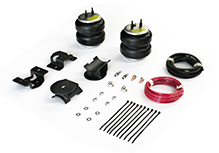 Reduced Maintenance & Repair Costs
Work and recreational vehicles may be consistently operated at maximum gross vehicle weight. Pedders air helper springs work with the existing leaf suspension to help carry this load, which results in a longer life for steel springs and improved tyre wear.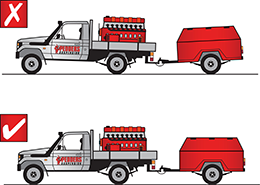 Prevents Bottoming Out
As load is increased the gap between frame and axle bump stop is reduced which means it takes less to bottom out the suspension and cause damage. Helper springs allow the operator to maintain the desired ride height whatever the load condition, maximising suspension travel and reducing the possibility of damage and rough ride due to bottoming out.
Increased safety
Loads that are not balanced can cause the front end of the vehicle to reduce contact with the road and force headlights into the eyes of oncoming traffic. Steering and handling problems also result. The kit maintains the correct vehicle level and in turn its geometry preventing such problems from occurring and therefore increasing safety
Better handling and increased stability
Because the air helper springs can be inflated or deflated to suit varying road or load conditions, steering and handling may be optimi-zed.
Adjustability
The adjustable nature of the air helper system allows the operator to correct front to rear and side-to-side deflections in the existing suspension system.
Make
Model
Year
No information