Had a quote for new self levelling Subaru Forester Suspension?
If you have had a quote you will know that these are very expensive! Pedders Suspension have the cost effective solution to your problems. We offer a replacement spring and damper kit for the rear of your Forester that will eliminate the troublesome self levelling arrangement. This is achieved by installing a conventional style rear shock and spring designed for this application.
This kit is a direct bolt in replacement. NO modifications to the vehicle are required. No extra parts are required. When fitting you will of course need to re-use the original top mount arrangement. Spring compressors will be required to complete this task.
Will my vehicle really be returned to its original Ride height? Yes, definitely! There are numerous examples of Foresters having had the Self-Levellers replaced with conventional dampers which then sit to low. This is because the original spring is too weak to support the full weight of the car as it is normally assisted in this task by the self levelling damper.
Pedders Suspension overcome this be supplying a matched set of dampers and springs specifically for this purpose. You can buy with full confidence that the vehicle will be the correct height and your troublesome and expensive self levelling dampers consigned to history.
Pedders 'EziFit' Struts & Springs
Here at Pedders Suspension, we are always looking to give more to our customers. We are now proud to present our latest offering for the Subaru Forester. Ezi Fit Struts!
Rather than purchasing separate springs, dampers, bump stops and then having to pay a technician to dis-assemble and re-assemble the parts for you, you can now buy the complete strut and just bolt it on yourself! Currently, these struts are only available for the Forester SG rear suspension at standard height.
Not sure if you have self levelling fitted?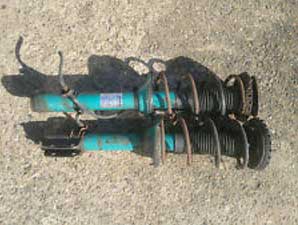 Some earlier SF shocks are blue/green. These are easy to identify. Later ones can be painted black. On these, it is only possible to tell by part number. The obvious giveaway of course is if the vehicle is sitting lower than normal and the springs look OK.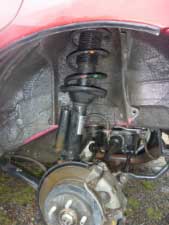 Forester SG- This is fairly easy to confirm. Vehicles with self levelling have a canister attached to the side of the damper/shock as shown in the picture below. If there is no canister fitted and it looks the same as our Pedders shocks, then it does not have self levelling.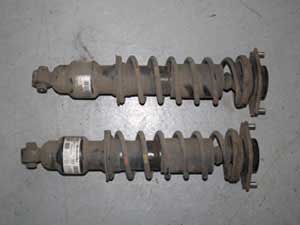 Forester SH models have a "bulge" at the bottom of the standard shock absorber.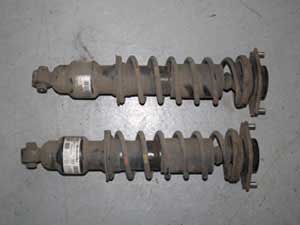 Forester SJ models have a "bulge" at the bottom of the standard shock absorber.
Not sure which version of Forester you have?
The simplest way to check is to look at the VIN number. This is located in the bottom right hand corner of the windscreen as you stand in front of the vehicle. The 4th and 5th digits will be either SF, SG or SH. Once you know this, then you can simply select from the menus below.