Do you own and drive a Subaru Impreza? Looking for suspension parts or suspension upgrades?
The Subaru Impreza is synonymous with rallying and has always gone down a storm with tuning companies with its small 2.0 Turbo engine, big bhp/torque and an ability to make much more expensive vehicles look completely inadequate.
As the Impreza has evolved from the now classic GC & GF series (1992-2000), through the years of the Bug, Blob and Hawk eyed GD & GG, into the GE & GH (2007-2011) and finally onto the hatchback GV (2011 on), there is an Impreza for all budgets and tastes.
Here at Pedders Suspension, we believe in offering a choice as to how you would like your vehicle to handle, drive and behave.
Within the Impreza range, we can offer straight forward replacement parts, uprated performance parts including dampers and springs, Ezifit Kits, and also the Xa coilover kits for those looking for the ultimate in adjustability.
To assist you choose the right parts for your car, please read the notes below:
You list lots of different kits and parts, which one do I need?
There are many different variants of Impreza. Please choose the correct one from the menu below to see the options.
Shocks. We offer 2 different types of shock. Our Pedders Shock, which is black, is, effectively a replacement for the original shock. So if you are just looking for replacement shocks to replace a defective original, then these are ideal
We also offer the Pedders Sportsryder shock. These are red and are uprated for an more performance orientated feel. These can be used with the original springs, or our lowering springs for improved feel and handling.
Springs. Again, we offer both standard replacement coils (black) and lowered upgraded items (red).
Ezifit Fully Assembled Suspension Kits. In addition to the above, we now offer fully assembled ready to fit kits for some models and variants. These kits are fully assembled kits, so come complete with shocks, springs, top mounts, bump stops and boots, ready to bolt straight in. Not only do they offer ease of fitment, the knowledge that all the parts are new, they represent exceptional value compared to buying the parts separately.
Extreme XA Coilover Kits. These are the pinnacle of the Pedders range and offer a fully adjustable suspension package aimed at the performance enthusiast.
Further details of all the products described above can be found on the relevant product pages. If however, you are unsure which option is best for you, please do get in touch on either info@pedders.co.uk or 01296 711044 where we will do our best to assist you.
Further information on Wagon and STi variants.
Wagon models. Where relevant, we offer different parts for wagon models. These are heavier at the rear and also can utlise different lower arms. We understand this, and where necessary supply different or additional parts.
STi models. Often the cause of confusion, later Sti models, specifically 200-2007 are fitted with inverted Monotube shocks. More importantly, the front shock uses a wider lower clevis bracket. This means that regular replacement shock cannot be fitted these models. These cars are often referred to as "wide track" cars, As well as the wider clevis, they are more easily identifies by a larger wheel stud patterm (PCD) of 114mm compared to 100mm on all other imprezas. If you are not sure, check this first (see drawing below, Where the line is 114.3).
Pedders have manufactured an Ezifit kit specifically for this model.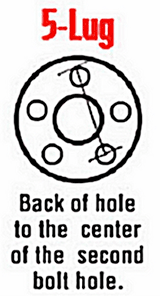 Subaru Impreza parts catalogue