Trak Ryder 4WD Suspension represents many years of technical development and delivers new levels of ride and comfort for the 4-wheel drive Mitsubishi Pajero owner. Pedders Trak Ryder suspension includes hundreds of quality components in its construction each designed to improve the ride and handling of specific vehicles in specific ways.
So which one do I want?
Well that rather depends on what you aim to achieve. For those simply seeking replacement parts to replace worn originals, you will see we offer a comprehensive range of quality parts. For those with the optional electronically adjustable suspension, we do not offer a replacement for this at this time. These are only available from Mitsibushi. It is possible to fit our dampers to vehicles fitted with adjustable suspension, but this would eliminate the adjustable function.
If you are looking to increase the height of your vehicle, or carry greater loads, then again, we have what you need. We offer various springs and dampers for your Pajero. To save hunting round for the right parts, we have put together lift kits for you. An added bonus is that purchasing them this way will save you money!
All the kits include front and rear springs (torsion bars where applicable) and 4 of our fantastic Foam Cell Dampers. For full details and benefits of foam cell technology from Pedders, click here.
Surely I can just wind up my torsion bars?
Well, of course this is correct. However with most older Pajeros you will find, just like any spring, that the torsion bars have settled. Most often, winding them gives only a short term improvement. In addition of course our torsion bars use a different spring rate (as do our springs) designed to work in harmony with our dampers.
Is everything I need included in the kit?
Yes, it certainly is. Where applicable, dampers come complete with replacement bushes etc. We do of course offer additional parts such as upgraded bushes for your Pajero.
How high will my Pajero be?
Although the kits give an approximate lift, this can be a little misleading. As mentioned above, springs settle over time, so a 1.5 inch lift, may turn out to be a bit more in reality. To ensure that you know exactly what you are getting, we also quote a fitted height.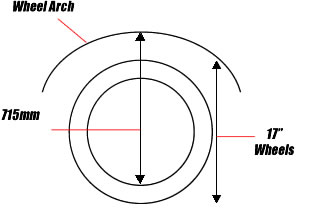 This is measured from the bottom of the wheel rim to the wheel-arch. The benefit of this method is that tyre choice has no influence on the quoted height. The diagram to the left illustrates a ride height of 715mm with 17" wheels.
Still not sure we have the right parts? Not sure which kit is the one for you? Then please get in touch, where one of our team will ensure you get the right parts for your needs.
Mitsubishi Pajero parts catalogue